Going into the 2016 NCAA Tournament, Maryland had a regular season record of 27-8. Of their losses, only 7 were on the road. At home, they went 16-1.Last year, their record at home was 18-1.
That's only 2 losses at home in the past 2 years.
Evidently, there's no place like home for Maryland.
In nearly every sports league in the world, Home Advantage is desired, even cherished.
In some leagues, like Major League Baseball, playing at home can even mean playing by a different set of rules.
The home team's rules.
Playing at home means playing on your turf, in familiar terrain, where you have the opportunity to create the most favorable environment for success.
It means taking advantage of the "stadium effect" by seeding the environment with avid fans, trophies and pennants celebrating your victories, and creating memorable experiences that connect fans to teams.
After all, it's all about the fans.
And, in business, it's all about your customers.
As a business owner, you have the opportunity, like a professional sports team, to create the "Ultimate Home Advantage." The opportunity to create the greatest environment possible to attract, engage, and retain customers.
Unfortunately, however, it seems that too many business owners don't seem to want to take advantage of this "Advantage." They don't invest in creating a winning environment for themselves, or their customers.
And it causes them to lose out on growth opportunities.
But it doesn't have to be that way. By creating the "Ultimate Home Advantage," you can position your business to be successful. To be a winner. To be a champion.
Here's how.
Ultimate Home Advantage Tip #1: First, Have A Home
We recently researched over 300 small businesses – between 1 & 10 employees – in our home market of Lansing, Michigan.
Nearly 50% of Those Businesses Didn't Even Have a Website.
I'll be honest, I was shocked.
I thought that, in this day and age, surely everyone has a website.
Granted, I already knew that nearly 2/3 of small business websites weren't mobile-friendly, but to not have a website at all?!
Anathema.
That's like deciding you want to field a team, but don't want to bother investing in a stadium.
And we aren't even talking about a Jerry-Jones-$1.2-Billion-Let's-Go-Big-Or-Go-Home-Cowboys-Stadium.
Just a high school stadium.
Heck, even many middle schools have a stadium. Or at least a field with some bleachers.
In today's world, interactions are increasingly multi-channel.That means they're physical AND digital.
And you better believe that this current generation of customers uses those digital channels to check you out. Heck, we even Google our friends when deciding if we even want to hang out with someone new.
Oh, and I'm not even a Millenial.
The point is that a website needs to be a part of your "Home Advantage." From your website, you build the foundationfor your digital presence.
And they're not even that expensive anymore. In fact, we know where you can get a new website developed and deployed within just a few weeks for as low as $799.
Just sayin'.
Ultimate Home Advantage Tip #2: Let The Crowd Make Some Noise
Remember the last basketball game you watched.
Remember what happened when a member of the opposing team stepped up to the Free Throw Line?
What happened?
I bet the home fans started waving their arms and screaming really loudly, in an effort to distract the opposing team.
At Texas A&M, they call their football team's fans the "12th Man."
Heck, the Seattle Seahawks even retired the #12 jersey in honor of their "12th Man."
What can you take away from this?
Two things.
1. Honor Thy Customers.
The Seahawks retired a jersey in honor of their fans.
What steps can you take to honor your customers?
These don't necessarily have to be exorbitant or expensive (how much does a retired jersey 'cost' anyways?). Simple means a lot. Birthday cards. Handwritten notes. Stickers.
You get the idea.
I particularly like the way that Invision, a software company that we use for hosting our prototypes, honors their customers. They send an occasional package of "Goodies" that are promotional, but also useful and beautiful.
I even shared my last package on Twitter: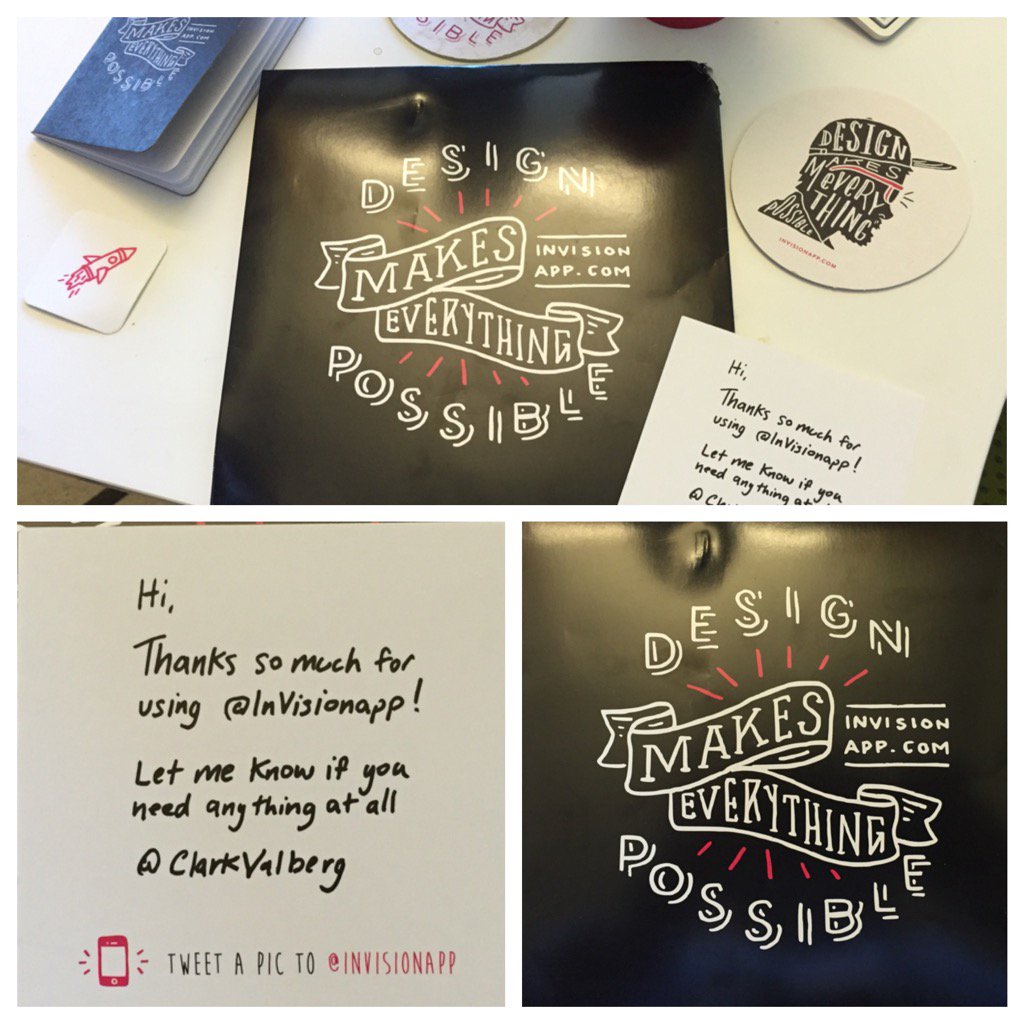 Jesse Flores @jflores1c

Wow, @InVisionApp just made my morning! thanks, @ClarkValberg!5:39 PM – 4 Nov 2015
It's tempting to always be in "customer acquisition" mode, but remember "retained" customers are more cost-effective and often better customers than new customers.
2. Share Your Customers' Cheers Loudly & Proudly
Your customers should be your biggest fans. Share their cheers loudly and proudly.
Use your website, your office, your Facebook page as part of your "Home Advantage."
If your fans love you, share the story.
Heck, we've even gone so far as to have an advertising campaign that's focused on using customer testimonials in order to show off how much they love us. (We love you too, Tom!)
Sharing proof of happy customers reduces the anxiety that new customers may have that your solution/service might not be right for them.
Which predisposes them to be more willing to buy from you.
And, if each of their interactions with you – across all channels – reaffirms the narrative that you honor your customers, then you'll be creating the ultimate "Home Advantage."
Ultimate Home Advantage Tip #3: Use The Jumbotron
Jumbotrons crack me up. They're basically TV at the event that I forewent TV to attend.
I just can't seem to escape TV, it seems.
Seriously, though, Jumbotrons are tremendously effective tools for engagement.
Whether it's the 7th Inning Stretch, the Kiss Cam, or one of those little games where you have to guess which hat the ball is under, Jumbotrons capture the attention of the crowd when action slows down and keeps them engaged.
How does this apply to your business?
First, you need to create a captive audience.
I'm often surprised how few business owners focus on building an email marketing list.
Email is direct channel to your prospects, customers, and fans.
Sure, social networks can have a similar effect, but email doesn't change it's algorithm every few months to make sure that it's recipients aren't receiving your promotional posts.
Your email list is your stadium.
It's your captive audience.
And you should aim to capture email addresses. Whether it's lead boxes on your website, contests in your stores, or collecting business cards, build an email list.
Create the stadium.
Then, secondly, engage people.
That means don't send terrible, spammy email.
But, it does mean that you should be promoting the content that you think will be most useful to your list as often as it makes sense.
That is, at least once a week.
Now, useful provides wide latitude.
That could be a blog post, a white paper, a coupon. It varies by industry and company.
Just remember, it must be engaging.
Nobody would watch the Jumbotron if it just played a guy in gray, talking monotonously about jibberish.
What a bore.
If you're going to create the ultimate "Home Advantage," you need to build the seating for your stadium and make sure there's a jumbotron available in order to engage prospects and cusotmers in between the times they're actively buying.
Ultimate Home Advantage Tip #4: The "Experience" Factor
Now that nearly every game for every sport is available on some cable or satellite network, going to the stadium has to be an experience, if people are going to come.
It's no different for you.
People are bombarded all day long with ads, messages, commercials, promotions, emails on their computers, tablets, phones, and probably, soon, watches.
They can find information on anything they want at anytime they want it.
And this generation searches.
Heck, even I barely remember a time before Google. Or even Google Maps (I was reflecting on how I navigated Rome in 2002, with nary a map, iPhone, GPS…still not sure how I did it, but I digress).
What they can't always find are great experiences.
And there are lots of ways to provide that. For instance:
Make sure your website is beautify, well-designed, and navigable. Bad design is tremendously frustrating to people who in "search" mode and looking to find information quickly.
Ditto for your office. I used to go to the Atlanta Dental Spa when I lived in Atlanta because the dentist kind of freaks me out. Their soothing music, hand massages, and ESPN above my chair allayed my fears. I love that place. Incidentally, so did many others. They had a wall of photos and testimonials lining the hallways. Talk about creating "Home Advantage…"
Be responsive. Follow up with people quickly. I'm amazed at how few people follow up.
Train the front line to in Tip #2. We're doing work with a few small businesses that have really nailed "customer experience" over much bigger, big-box companies. They're even more expensive than the "big guys." What separates them? Customer Service and Engagement by everyone in the stores. Goes a loooooong way.
There are lots of other ways to provide great experiences, this is in no way an exhaustive list.
The point is, to try.
And, as you do, you'll be giving yourself the "Ultimate Home Advantage."
Ultimate Home Advantage Tip #5: Change The Game
Finally, when you put all of these things together, and mix it with your own ingenuity, it gives you the opportunity to change the game for you customers and your business.
Every business has it's own "special sauce." The thing that makes them unique. That makes them stand out. That makes them "special."
Creating the Ultimate Home Advantage is about being able to share – to spread – that special uniqueness to more and more customers, over time.
Paying just a little more attention to creating a home, embracing the crowd, engaging everyone in the stadium, and providing an enviable experience will allow you to spread that uniqueness, as well as set up additional barriers to competition.
After all, no competitor or alternative will be able to compete, once someone comes into "Your Home."
Does Your Digital Home Need a Renovation?
Get a Free Online Quote on a New Website in Just 5 Minutes!
Photo Credits:
Cowboys Stadium by Nicole Coredeiro, originally posted to Flickr as "Cowgirl's Stadium"
North Carolina State fans cheering at NCAA college basketball game. (AP Photo/Gerry Broome)
Jumbotron photograph by Andrew D. Bernstein/NBAE/Getty Images
Ravens fans walk into the stadium before the start of Ravens Training Camp at M&T Bank Stadium. Tom Brenner / Baltimore Sun (Tom Brenner / Baltimore Sun)
Knute Rockne & the Forward Pass, Sandusky Register